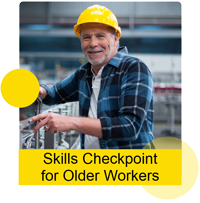 Course co-funding help is being offered for people between 40 & 70 years of age, if you are eligible (see below).
The Australian Government funded Skills Checkpoint for Older Workers program offers eligible persons aged 40-70 with funding contribution towards any workplace-related skills training (with a maximum rebate of $2200).
The program and funding could be of great interest to any potential mature-age student that meet the qualifications below, saving you costs on their skills training.

How it Works
You may be eligible for Skills Checkpoint if you are:

aged between 40 and 70;
not registered with an Australian Government Employment Services Provider;
have been out of work less than 3 months or are currently working and need to re-skill for your role.

If eligible for the funding you will receive:

50% funding for the course cost. For example, if the course costs $1000, you will receive $500 towards the cost. If the course costs $4000, you receive $2000 towards their course cost.
Courses over $4400 amount receive the maximum funding of $2200. For example, if the course costs $9,000, you will receive $2200 towards your course cost.
Some courses like some of the machinery tickets are 75% funded.

Next steps to see if you are eligible:

call BUSY At Work on 1300 359 061 for further information.If you are eligible, come back and talk to us about upskilling your life.